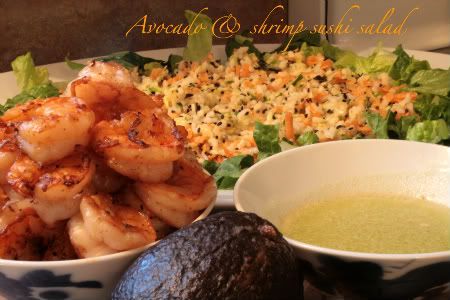 It's been nearly a month since I last posted anything and I'm feeling pretty lousy about it. It's not as though I haven't traveled anywhere, eaten anything, or fixed a meal because I'm guilty of all those things. I've been to Mexico, eaten at a GREAT restaurant with AWESOME hamburgers, and fixed a few meals that I'm proud of. Since I'm still lucky enough (haha) to still have a souvenir from Mexico, namely some gastro-enteritis, I didn't feel any love for corned beef and cabbage yesterday to "celebrate" St. Patrick's Day. It's not that true Irish folks really eat that anyway. I hear lamb stews are pretty popular instead but I'm detouring a little.
I was messing around with some recipe ideas from various cookbooks in storage that I pilfered from the attic. I had forgotten that I had
Moosewood restaurant new classics
and what a great resource it was for "different" recipes. One recipe had everything, almost, that I had in stock at the house without running out to the store. Sushi salad on an Irish holiday? What the hell!
Due to supplies on hand I substituted grated zucchini for the radish/daikon, omitted the scallions, and used chopped romaine lettuce for the salad greens that were called for in the original recipe. I also only used one half of a toasted nori sheet due to personal taste. In my opinion that's an ingredient that can be completely omitted if desired. I also added a dash of dark sesame oil to the wasabi dressing too for added flavor.
Avocado & shrimp sushi salad
(based on the Moosewood restaurant new classics cookbook)
Ingredients:
1/4 cup rice vinegar or lime juice (I used the vinegar)
2-3 cups cooked white rice, preferably sushi rice
1 pound peeled and deveined shrimp
2 tsp. sugar (I used 1 packet of Splenda)
2/3 cup peeled and grated carrots
1/4 cup grated radish or daikon
1 Tbsp. toasted sesame seeds
1 sheet nori, toasted and crumbled
1 ripe avocado, preferably Hass
4-5 cups mixed salad greens or spinach leaves
1. In a small bowl, whisk together all of the wasabi dressing ingredients until smooth, and set aside.
2. Cook the shrimp as desired either by boiling for 2 minutes until pink and firm OR grill, after tossing with a little vegetable oil, over a hot fire.
3. In a small bowl, whisk together the rice vinegar, sugar or Splenda, and salt until the sugar dissolves. Add the mixture to the cooked rice and combine.
4. Add the carrots, scallions, radish or diakon, sesame seeds, and 1/2 of the crumbled nori to the cool rice mixture and toss well. Peel, pit, and slice the avocado but do not add.
5. To assemble the salad, line a large platter with the greens. Mound the rice mixture in the middle and arrange the shrimp and avocado slices around the perimeter. Drizzle the wasabi dressing over the entire platter and sprinkle the rest of the crumbled nori, if desired. Garnish with the citrus wedges.
6. Enjoy St. Patrick's day!