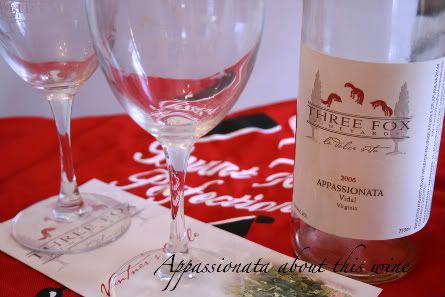 Do not. I repeat, do not put food on the stove before you get "distracted" with your significant other. In my defense I wasn't planning on getting distracted but it just sorta happened and as a result my WHOLE house stinks like burnt food now. I had an AWESOME skillet of lime butter green beans, broccoli, and mushrooms but it all was sacrificed to Vulcan the fire god during my inattentiveness. I'm sure that nobody really cares about my "private life" but it's my version of a public service announcement and I thought it was important.
NO FOOD ON THE STOVE WHILE YOU'RE NOT WATCHING...EVER!
Speaking of food it makes me drift to wine (natural progression) and I've been looking at the same, empty, bottle of wine on my kitchen table for almost a week now and I feel utterly compelled to say something about it. I'm not trying to blow smoke up any one's keister and pretend I'm a wine connoisseur but I do like wine and I know what I enjoy drinking. So, to continue, I've been gazing at that empty bottle and it has been reminding me of when Bob and I drank it on Valentine's Day evening. What a great dinner. What a great wine. Bob and I had bought wines on our Fall field trip to Virginia last year and was pleasantly surprised when he spotted two bottles that we had miraculously saved all this time in the wine fridge. We started with the one bottle we had, from the two, and eagerly opened the second bottle we had when we finished the first. We couldn't help it. Bob and I were even reminiscing this morning about our prized
Three Fox Vineyards
2006 Appassionata Vidal that we had that Valentine's evening. Well the TWO we had that evening. The Appassionata Vidal was a buttery white wine that was utterly delicious and became our instant favorite from all the wines we bought, from the past till present. Bar none. We're big fans of the Northern Virginia-area wine country and make a field trip out of visiting them.
Oasis
,
Rappahanock
, and
Pearmund
have always been our "go to" places where we enjoy ourselves for the atmosphere and the great tasting wines but we ventured to a new location and hadn't regretted a single mile to get there. Three Foxes Vineyard is a small newer vineyard, for us, and their wines are just outstanding. When Bob and I walked towards the entrance to the tasting room we were greeted by one of the friendly owners who was fighting a battle with the firewood trying to get a fire started in an outdoor chiminea. We didn't realize that he was one of the owners because he was so unassuming, and well, was pretty determined and occupied to getting that fire started too. He stopped momentarily to greet us and pointed the way towards the tasting room. Later, we realized who he was after we had met the other half of the partnership, his wife, who was just as unassuming and was talking with us about joining their Vinter's Circle. Apparently there was a Christmas event they were planning for their members and it sounded like it was going to be great fun. She was very excited about the preparations for it and had spoke of a prior event that was a resounding success as well. Regretfully we didn't join due to distance but definitely plan on a field trip in the future re-stock our supply of their delicious wines. I'm looking at their brochure right now and dreaming of the trip.
So that's my day so far. Burnt food and delicious wine. There's not enough incense to get the lousy burn smell out of the house right now. If there's any ideas out there I'll take them because, well, because literally it's starting to give me a headache from the smell. Well, it could be because Bob and I were at No Place last night but that's another story.