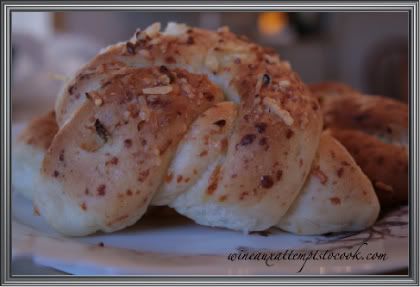 I'm not really a full fledged home baker but I try to pretend with my bread machine that I've had for billions of years now. I love that machine. It even churns butter but I haven't used that feature in years too. Shame on me! Anyway, I tweaked a recipe for Garlic Parmesan Bread and turned the bread into knotted rolls, instead, through the dough cycle. No mystery and no great challenge there I know. But, I've always loved a local pizza joint's garlic knots and thought I would try to recreate some for home. Those garlic knots were HORRIBLE for you as they were covered, no DRIPPING, with melted butter and garlic and they were DELICIOUS. Bob, Kevin, and I would wolf a few down while waiting for our pizza. Real easy to polish off about five or so if you're not careful. But, I haven't had them in years and the memory is still there. I thought I would pay homage to
Colosseum Pizza's
yummy garlic knots as best I could.
Garlic-cheese knots
:
Ingredients:
1 cup water
2 1/2 tbs. butter
1 tbs. honey
2/3 cup grated parmesan cheese
3/4 tsp. salt
2 tsp. garlic powder
1 cup whole wheat flour
2 cups bread flour
1 1/2 tsp. yeast
1/3 cup grated parmesan cheese
1 1/2 tbs. finely chopped garlic
3 tbs. butter
Directions:
1. Layer the above ingredients, starting with the water and ending with the yeast, into the pan of your bread machine.
2. Press the dough cycle and allow to process for the alloted time (mine's 90 minutes). Be watchful of the dough during the first few minutes to see if the dough incorporates well. Add water or flour as needed.
3. In a medium pan melt 3 tbs. butter and keep warm. Combine the parmesan cheese and garlic in a small bowl and set aside.
4. After the cycle is finished on your machine pull the dough out onto a lightly floured board. It should feel silky soft and not too sticky. Cut the dough into about 18 pieces and roll into small logs. Twist the dough log into a single small knot and place on a large greased baking pan in a single layer.
5. Dip each knot into the melted butter and then in the garlic cheese mixture. Place back on the baking sheet.
6. Cover lightly with plastic wrap and allow to rise 30 minutes in a draft-free warm area (this sounds crazy but I use my dryer for this step...preheat the dryer on high for 15 minutes, install the dryer rack, and place the tray inside).
7. Preheat your oven to 350 degrees. I place my baking stone in the middle of the oven and allow room at the bottom of the oven for a large aluminum pan to be filled with hot water during baking.
8. After the knots have risen, remove the plastic wrap (I know that you know that), and place the pan on the middle rack or on the baking stone. Place aluminum pan on the very bottom rack and fill with hot water. The idea is to create steam while baking.
9. Bake for approximately 30 minutes. Remove from oven and further slather some more melted butter on the knots.
The recipe for the dough is based on a "medium" size recipe for the bread machine. Approximately 18 rolls.
The rolls rose more than I would have preferred but still turned out pretty nice. I used them the next day with the left-over French Dip roast with au jus. Just sliced the knots up the middle and made small french dip sandwiches. Yummy indeed.