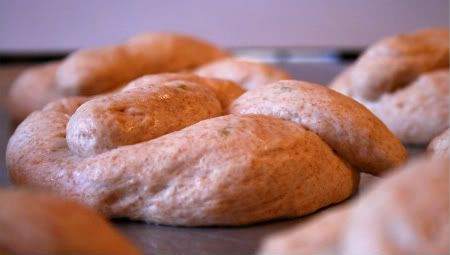 Soft doughy formed pretzels out of the

proofer
My poor buddy Kevin arrived home from school today looking like all the cold viruses in the world had settled in his eyes. I couldn't believe the difference in him from this morning till he got home at 3 o'clock. Alright, he looked like shit to be honest. Both eyes were red and sunken and he sounded like he was speaking with his nose pinched. I was already in the process of making pretzels which I had thought would be fun and cheery after his first day back to school since the snowy-icy weather had begun. I didn't realize that I would be saddled with eight warm pretzels and no one to eat them ravenously like I had planned. He had plunked himself in bed not to emerge yet and it's already been four hours. So much for plans.
All lathered in egg wash and Kosher salt ready for the oven
My poor buddy. Having a cold is a drag and I'm unsure of what tomorrow morning will hold for him. Until then it's just me. And my blog. And my camera.
The finished product!
Jalapeno Cheddar pretzels for the bread machine
Ingredients:
7 ozs. warm water
1 tablespoon softened butter
1/2 cup shredded Cheddar cheese
1/4 cup jalapeno peppers, chopped
2 teaspoons salt
2 teaspoons sugar
1 1/4 cups white bread flour
1 cup whole wheat flour
2 tablespoons sesame seeds
1 tablespoon wheat germ
2 teaspoons active dry yeast
Directions:
1. Place ingredients in your bread machine in the order listed above OR as recommended by your machine's manufacturer.
2. Select the DOUGH cycle and press start.
3. Let the dough run through it's cycle and watch for excessive dryness or wetness depending on the conditions in your kitchen. Correct accordingly with water or flour.
4. After the cycle is finished (usually 90 minutes or so) pull the dough onto a lightly floured board/surface and, without too much manhandling, cut into eight even balls.
5. Roll the balls into long logs and twist into pretzel shapes. Place on lightly greased pan and cover lightly with greased plastic wrap to prevent sticking.
6. Let rise (I sometimes use the dryer...no laughing, or the oven with a steaming pan of water underneath the tray) for approximately 30-40 minutes. Not too long or they'll get overswollen.
7. After the rise, lightly brush with an egg wash, cover with pretzel salt (all I had was Kosher) and bake in a pre-heated 350 degree oven for approximately 15-16 minutes and no longer than 20 minutes.